Sabdrain polypropylene channels were installed at petrol stations in Jordan for 3 major players of fuel distribution: JoPetrol, Total and Al Manaseer. SAB technical and sales team as well as our partner's ones – Thermal Systems Group Co. LTD – have supported the modernization of petrol stations through a solution that offered significant technical and economic advantages compared to other drainage technologies present on the market.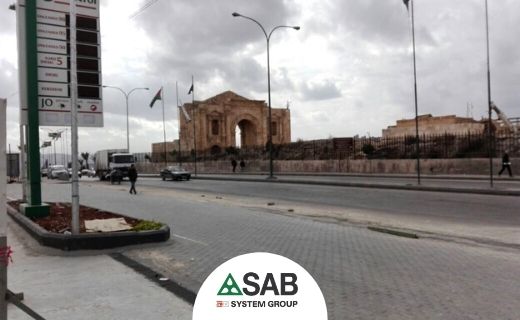 Project description
The project involved the modernization of petrol stations with car wash service and assistance throughout the Jordanian national network, for a total of approximately 2,000 meters of drainage system. The closeness of one of the petrol stations of Jerash to the Arch of Hadrian, a historical-artistic attraction dating back to 130 AD, made the success of the project even more relevant and significant.
Problem: Petrol stations originally had concrete channels with the aim to optimize material costs. However, this solution quickly revealed a serious problem linked to the channels rapid wear, because of concrete poor resistance to chemicals.
Solution: Thanks to the technical support of SAB and THERMAL SYSTEMS GROUP experts, an ideal solution that would compensate for the critical factors of concrete channels was provided.
Unlike concrete, Sabdrain polypropylene channels boast a high resistance to oil and gasoline (fuels) at petrol stations and to the soaps from the car wash that run off with rainwater to be drained by channels. Therefore, after a careful evaluation of chemical agents and PP resistance values, the designer opted for 2,000 meters of PP Sabdrain channels, 200×200 with steel edges and D400 cast iron grids, given trucks and heavy vehicles traffic, in combination with anchors for a more stable installation.
This choice has allowed not only to reduce installation costs, but also to greatly extend the service life of the drainage system, optimizing maintenance costs and avoiding the risk of frequent building works at such an important site.
Customer feedback
On the one hand, the installation company recognized the installation easiness, while on the other hand, fuel distributors appreciated long-term costs reduction and product reliability. This project is a result of a team development and the support of SAB and THERMAL SYSTEMS GROUP CO. LTD.