Best practices & irrigation techniques in industrial hemp cultivation
This rise is particularly due to its strong versatility. Hemp can be successfully applied in both medical and food sectors, as well as in textile or energetic industries. This trend of increase involves similarly Europe, USA and even South-East Asia.
HISTORY
Hemp was cultivated in ancient historical times in Asia and the Middle East. Commercial production of hemp in the West spiked in the 18th century. The cultivation of hemp for textile use has an ancient tradition in Italy. It was used in ancient times for resistant fabrics and roping, closely linked to the expansion of the Maritime Republics. In the past, hemp cultivation was common in Mediterranean and central Europe. First of all, because this plant grew on soils that were difficult to cultivate with other industrial plants (sandy soils and marshy lands in the river plains). Secondly, there was a strong demand for plants that were so versatile and cheap. Hence, hemp was useful for producing "oily" substances (for lighting), "fibrous" (textile fibers, paper, rope) and livestock feed. This crop was one of the most important crops on the Italian scene, considering that 90 thousand hectares in Italy were dedicated to this agriculture in the 1940s. Currently, the production of Cannabis sativa has been significantly revalued, attracting the interest of many farmers in search of an alternative crop. The main interest focuses, rather than on the traditional and historical production of fiber or seed, on the production of shredded flowers for the extraction of non-psychotropic active principles, such as CBD – cannabidiol.
The high-quality standard required by the extraction industry requires a product subjected to the GACP (Good agricultural practices and collective) protocol and coming from a controlled supply chain. These forces the farmer to adopt new agricultural practices compared to those used in the past. We will now analyze the main techniques currently used for the cultivation of Cannabis sativa.
DRIP IRRIGATION SYSTEMS FOR INDUSTRIAL HEMP
Hemp, in the past, was usually cultivated with dry sowing techniques in central and southern Italy, or sprinkler and submersion irrigation in northern Italy with open field fertilizations. Over the last two years, cultivation techniques have been developed in Tuscany: a row sowing in intervals between 70 cm and 110 cm, drip irrigation with a very high uniformity coefficient accompanied by a ferti-irrigation system, a localized fertilization after sowing, and followed by ferti-irrigation cycles. Drip irrigation, as expected, has proved to be one of the most important factors for an abundant, but above all, quality harvest. A 3" SAB FILTER 150 mesh filtration unit (50 mc / h), 3" pressure reducing valve, 1" venturi ferti-irrigation system, 3"

RIOFLEX polyethylene manifold hose

and

MAGO

diameter 22 dripline – 8mil – 30 cm spacing bet ween drippers- flow rate, 1 l/h at 0.7 bars. The irrigation practice used was 100 cm for a total quantity of 10.000 m hectare, for a total distribution of 33000 l/h (33 mc / h).
The dripline was spread out on the field and then installed on the rows, immediately after sowing, so as to be able to act immediately with short irrigation cycles, intended to ensure a soft ground that assists the sprouting of the small newly born seedlings. Where this practice had not been carried out, the hard surface crust of the soil prevented more than 50% of new seedlings from germinating, causing a serious loss of production. After the second week from germination, 4-hours irrigation cycles per sector were scheduled, twice a week, for a total of 64 hours of irrigation per cycle, thus giving the Cannabis plantation about 2100 mc of water. Irrigation was then suspended 10 days before harvesting, to reduce the moisture content upon drying.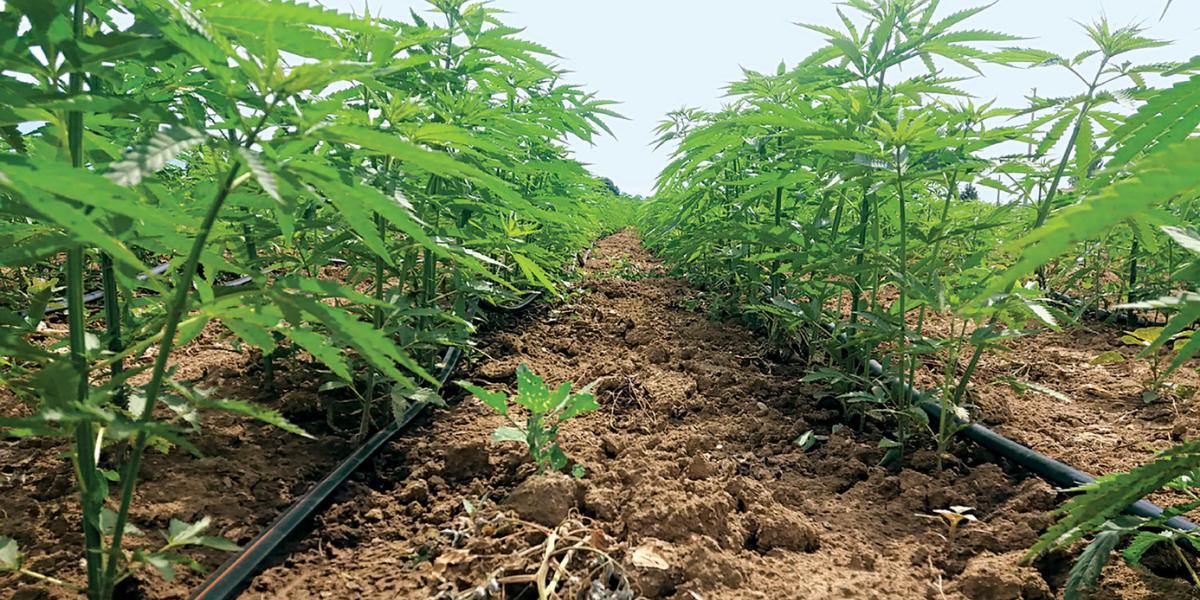 FERTILIZATION TECHNIQUES
The drip installation was fundamental not only to provide the right amount of calculated water in the various stages of plant development, but also and above all, to provide the plants macro and micronutrients essential for a good crop yield.
Taking care not to mix sediment and / or precipitations responsible for clogging at the dripper, about 80 units of phosphorus, concentrated mostly in the first 4 weeks, 70 units of potassium in the second 4 weeks and about 110 units of nitrogen were administered at intervals over the 8 weeks after sowing.
CONCLUSIONS
Localized irrigation proved to be the best irrigation technique for growing Cannabis sativa L. from biomass, with excellent productivity and laboratory results. The drip tape has proved to be the right product even when using water that is not clear and with a high presence of debris. Needless to say, that an accurate design is essential, to ensure the best uniformity of water distribution on the irrigated surface. The forecast for the cultivation of Cannabis sativa in Italy, in the next short term period, is a considerable increase in the amount of intensively cultivated land, with increasingly efficient and innovative cultivation techniques.